High Growth - the real fundamentals of finance!
Start Date
Wednesday, April 3, 2019 - 17:30
End Date
Wednesday, April 3, 2019 - 19:30

High Growth - the real fundamentals of finance!
One of the signals that you're on the path to high growth is when you suddenly start to find business finance sexy. Not all aspects, granted, but this session and its highly experienced panellists will help you understand the areas of focus that will help you fly into the future.
Our panel includes:
- Finance for all: it's when all the members of your team start to embrace the financial fundamentals that you know things are starting to shift.
- Sales and finance: seemingly strange bedfellows, when you get a finance team that can talk the language of sales and then take it to the next level, all manner of magic can happen....
- What's key? Those who have 'been there and got the t-shirt' know that the real fundamentals of Finance that matter aren't necessarily what you'd expect. Learn what they are (but we may have to shoot you afterwards....)
- Looking to sell your business? Gain an understanding of what drives valuations. 
- Crystal balls and binoculars: cash is king for a reason. Without it your business dies. Get insights on the importance of future-gazing and forecasting
And there'll be time for discussion and questions, facilitated by Si Conroy from Scarlet Monday.
Join us for a lively and informative panel discussion with great networking, drinks and canapés thrown in. We expect you to come away from the event both challenged and with a clear implementable action list to take back to your business.
Thank you to our event sponsors: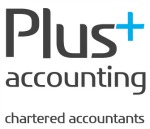 As you would expect from a firm of chartered accountants, Plus Accounting offer a comprehensive range of tax and accounting services.  So whether you are just starting out or thinking about selling your business, Plus Accounting can provide you with the support and guidance that you need to keep control of your finances and plan your affairs for maximum efficiency. 

Eagle Lab is currently the biggest network of incubators and accelerators in the UK and we are the biggest network of prototyping labs in Europe. Geographically split around the UK in hives of entrepreneurialism. We aspire to actively engage and support where possible all businesses within our wider localised ecosystem, high-growth UK-based businesses. We offer mentors, business coaches and an events schedule aimed to develop business skills.
All of this is with the view of growing local businesses with the benefit of working alongside like-minded high-growth businesses, access to a wider nationwide network and access to Barclays' connections locally, nationally and internationally.
Cancellation policy: Places are limited and events usually oversubscribed. Please give 2 working days' notice via email or you must pay for your place in full.

If you have never been a member of the Brighton & Hove Chamber you are welcome to book and join us as a guest at two of our events. After this, you will need join the Chamber to enjoy the benefits of membership.